Launch of a Global Campaign: International Awareness Day for Avoidable Deaths (IAD4AD)
Date: 13 March 2023
Time: 12:45 – 17:15 JST/ GMT+9
Venue: TEXPIA OSAKA, Izumiotsu, Japan
On 13 March 2023, approximately 100 international partners and participants joined us for a day of presentations, panels, and showcasing of initiatives. The launch was headlined by a message from the Head of the UN Office for Disaster Risk Reduction (UNDRR), Ms. Mami Mizutori.
Watch Event
The event was streamed live to YouTube. To watch the event, please click play on the video below or click here to be taken to our YouTube channel.
Photos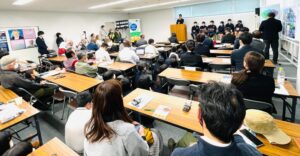 To browse the photos from our IAD4AD launch in Japan on Facebook, please click here.
Event Programme
This event was divided into four parts and featured 24 presentations from the esteemed speakers detailed below.
To download the Event Programme, please click here.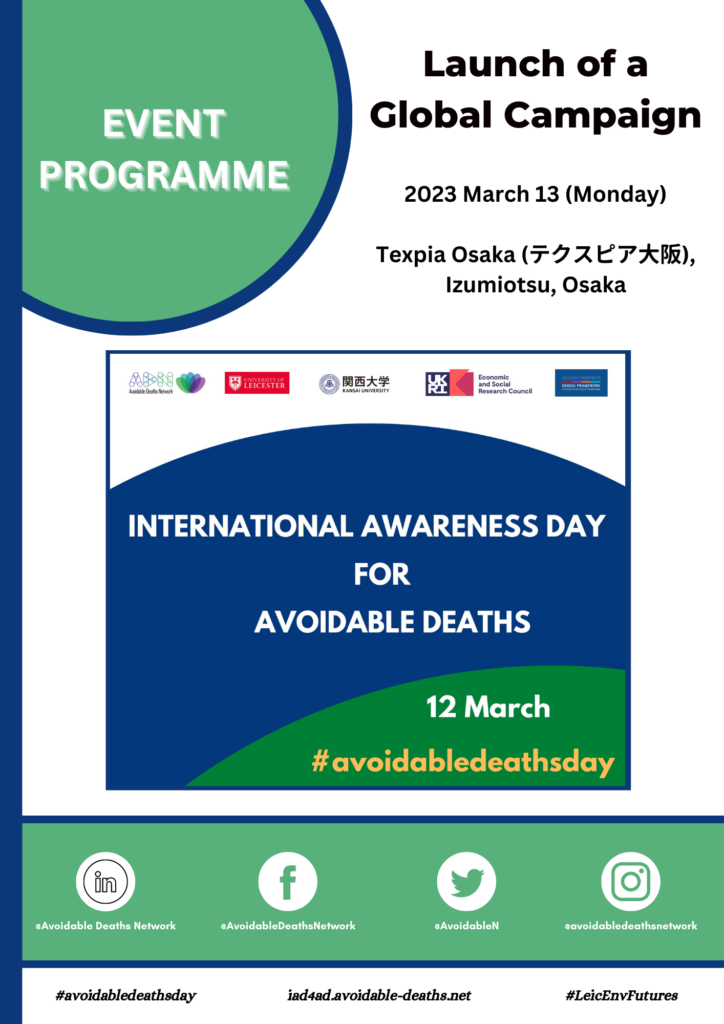 PART 1: WELCOME AND CONGRATULATORY KEYNOTE ADDRESSES
1. Dr. Hideyuki Shiroshita, Kansai University
2. Professor Takao Fujita, Kansai University
3. Professor Henrietta O'Connor, University of Leicester
4. Professor Heiko Balzter, Institute for Environmental Futures
5. Mr. Satoru Takeuchi, Education Board, City of Izumiotsu
6. Mr. Takuya Masakari, Disaster Risk Reduction, City of Izumiotsu
PART 2: REMARKS FROM SENIOR OFFICIALS AND OFFICIAL LAUNCH
1. Dr. Nibedita S. Ray-Bennett, University of Leicester
2. Professor Emeritus Norio Okada, Kyoto University
3. Professor Rajib Shaw, Keio University
4. Ms. Alyssa Holganza, United Nations Office for Disaster Risk Reduction (UNDRR) – Kobe
5. Ms. Mami Mizutori, Special Representative of the United Nations Secretary-General for Disaster Risk Reduction
PART 3: ADN JUNIOR CHAMPIONS AND HUB PRESENTATIONS
1. Dr. Hideyuki Shiroshita; ADN Junior Champions, Hama Elementary School
2. Arkoneil Ghosh, Jamnabai Narsee International School
3. Mr. Minamide Kenichi, City of Izumiotsu
4. Dr. Yazidhi Bamutaze, Makerere University
5. Mr. Dillip Pattanaik, Orissa State Volunteers and Social Workers Association (OSVSWA – Orissa, India )
6. Mr. Maqbul Bhuiyan, Data Management Aid
7. Dr. Fatima Akter, Dhaka University
PART 4: ADN COLLABORATORS AND SPONSORS
1. Col Sanjay Srivastava, Climate Resilient Observing Systems Promotion Council (CROPC)
2. Mr. Mohammed Ali Said Ali Albadi, YAS Center for Environment and Health
3. Mr. Ronald Jackson, Recovery for Building Resilience, United Nations Development Programme (UNDP) – Geneva
PART 5: FUTURE OF IAD4AD
1. Dr. Nibedita Ray-Bennett
2. Mr. Steve Glovinsky, PeerConnect
CLOSING CEREMONY
1. Professor Shingo Nagamatsu, Kansai University